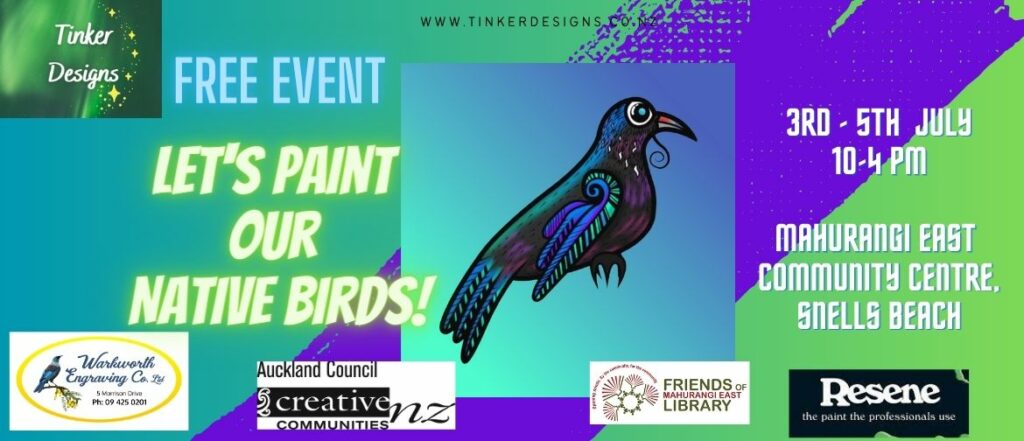 Discover the Magic of Art and Nature at Our Spectacular Forest Mural Event!
This July School holidays, immerse yourself in the enchanting world of art and nature as we invite you to join our incredible event. Get ready to embark on a creative journey alongside two local artists, Desiree Alexandre and Shelly Gray, as we bring to life a breathtaking 3D panoramic forest mural.
Calling all art enthusiasts, nature lovers, and creative minds of all ages! Step into the Mahurangi Community Centre in Snells Beach from the 3rd to the 5th of July, between 10 am and 4 pm, for an unforgettable experience. This free event, spanning three days, is the perfect way to kick off the School holidays.
Witness the transformation of six massive panels into a stunning New Zealand forest mural. But we need your help to complete this majestic masterpiece! Choose a Native Bird cutout to paint, and together, let's bring our forest to life.
With over 150 Native NZ birds awaiting their vibrant colors, you have the opportunity to leave your artistic mark on our 1.8m high and 1.2m wide boards. Select from a captivating range of 13 MDF cutouts, featuring iconic birds such as the Kiwi, Tui, Rifleman (Titipounamu), Morepork (Ruru), Fantail (Piwakawaka), Bellbird (Korimako), Wood Pigeon (Kererū), and many more. Unleash your creativity and give each bird a unique personality as they find their place in our forest.
Don't miss out on this exceptional opportunity to showcase your artistic talents and contribute to a larger-than-life mural. Register now to secure your spot and reserve the Native Bird cutout of your choice. Spaces are limited, so act swiftly to guarantee your participation.
Join us as we blend art and nature, creating a visual spectacle that will leave a lasting impression. Be part of something extraordinary and make memories that will be cherished for years to come.
This event requires that you register.